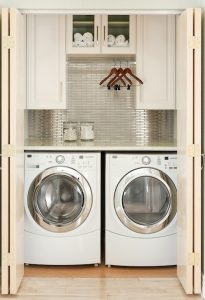 A couple of weeks ago, we ushered in the first day of spring. Hooray for warmer weather! There is something about spring that ignites the desire to clean and organize, and as a professional organizer in Boston, I couldn't be more thrilled.
One area of the home that tends to get neglected is the laundry room. Yes, it is where we take our linens to get cleaned, but how often do you take the time to organize and clean this space? Wouldn't it be nice to enter your laundry room and have it a pleasant experience? If you enthusiastically nodded yes, below are some ideas to make your laundry room a lovely place.
Install Shelving. The top of your washer and dryer shouldn't be for folding. Instead, hang a shelf for this very purpose. Wouldn't it be nice to have a clear, clean space to spread out your clothes and fold them without getting lint or dirt on the clean clothes? If space is tight, consider using a fold down shelf.
Create a Drying Station. For clothes that cannot go in the dryer, but need to be air dried, install a hanging bar. Shirts also dry better by taking them out of the dryer a little damp and hanging on a hanger to finish the drying process.
Say Yes to a Cabinet. From laundry detergent to dryer sheets, the number of products left to clutter a laundry space can be unsightly. Let's face it – laundry supplies aren't pretty so keep them behind closed doors in a cabinet. Make sure your cabinet has adjustable shelving so you can customize the height of the shelves to accommodate the different sizes of products (those value sized detergent bottles can be huge!).
Think Small. People's pockets can bring about loose change and other items. Keep small jars (mason jars are great for this) on the laundry shelves to collect these items. If you want to take this a step further, have a jar for each member of the family so they can go to collect their money, lip balm and notes.
After you organize your laundry room, you'll be more compelled to do the laundry…right? Well, that is the hope anyway. Happy laundering!
Photo: Decorpad.com