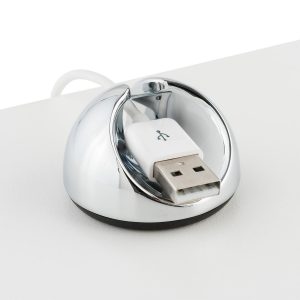 It's the new year, and that means your office should be in tip-top shape. Clean, organized and ready for 2017, right? Well, if you're not quite there with your office, it's okay! Now is the time to take little steps to make your office your working sanctuary. One way to help tackle this is to tame those pesky cords!
I just moved and dealing with the onslaught of cables is driving me crazy! The good news is that there are ways to manage those ugly cables. Here are a few that may help you.
BlueLounge CableBox – This is a sleek black or white cable organizing system that covers up those cable eyesores! It houses your power strips and contains excess lengths of cable. The cords and cables slip neatly through the opening at the other side, and you can also store your phone or router on top of it.
Cable Twisters – I love these because there are multiple colors in the package. You can use them to color categorize what you are holding in the twister to make it easy to access. By doing this, you won't go crazy determining what cable to grab if you need to change your devices!
OXO Good Grips Chrome Cable Catch – These are fancy and functional! The opening lets you easily insert and remove cords and prevents them from sliding away when you unplug a device. It's especially handy for items that are frequently charged and used, such as smart phones, tablets, MP3 players and laptops. How many times a day do we need to plug and unplug our tablets or smart phones and the cord drops to the floor? I just love these!
What are your go-to products or DIY techniques for managing your office cables?
Photo: amazon.com