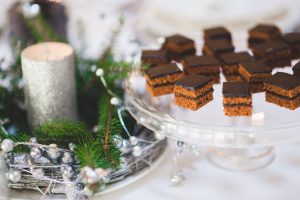 There is nothing sweeter than homemade cookies, muffins, brownies, cakes…you name it! All baked goods are quite delicious. This time of year, baking goes into overdrive in many homes. Most of the time, cookie sheets, muffin tins and other essentials are buried in the back of the cabinet, and impossible to retrieve without removing half of the other kitchenware. This can be frustrating!
To save your sanity, it's time to corral your baking essentials! Below are three ideas to give you peace of mind for the next time you bake those delicious treats.
Vertical Sorter – Who says office organizing products have to stay in the office? Using this vertical sorter will allow you to hold your cookie sheets, cupcake tins, and cake pans in a better position to grab what you need and allow for easy retrieval. Most importantly, it is much easier to put them away!
4 Sort Divider – Have I told you how much I love The Container Store? There is something for every organization problem. Next time you're in the store, pick up the 4 Sort Divider. It will keep your bakeware vertical, and makes it easier to grab the items you need.
Adjustable Bakeware Organizer – This is another great solution for your bakeware. This product can be mounted either horizontally or vertically depending on your cabinet configuration and what you want to store.
These are just a few ways to organize your bakeware. Remember, sometimes we can get carried away and have too many tins, pans and cookie sheets, so it's best to evaluate what you actually use, and purge the rest. If you have an old crusty cookie sheet, get rid of it! If you have bakeware you haven't ever used, perhaps it's best to put into storage to free your available kitchen storage space.
How do you organize your bakeware, and more importantly, what are you baking this holiday season?
Photo: kaboompics