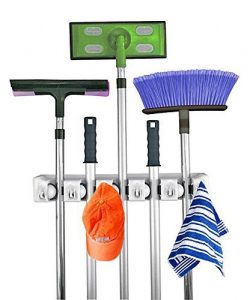 Cleaning products like brooms and mops are a must, but most of the time these can take up valuable space in a storage closet. They can also look sloppy sitting in a corner. Instead of using the horizontal space on the ground, it's time to use the vertical space on the wall!
Enter the wall mounted utility holder. This is a wall organizer for brooms and mops that hangs these products on the wall. This is a tool that I do love as it nicely corrals your cleaning tools in one place. The only thing that you need is wall space to hang it!
This mop and broom holder on Amazon is great, as your cleaning supplies simply snap in position. In addition to being able to hang five different items, there are six additional hooks you can use to get other items off the floor.
This organizer could be used in many different rooms of your home. Aside from using it in the utility closet, you can use this in the garage to hold rakes and shovels, and even sporting equipment like hockey sticks and baseball bats.
This nifty item is definitely a DO in my book. Where in your home would you use this product?
Photo: Amazon