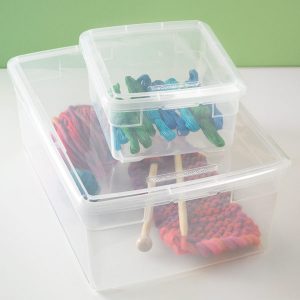 The gift lists are out, and the shopping has commenced. Chanukah has started and there are only 15 days remaining until Christmas. It's time to start checking those gifts off your lists. Now, what do you get the person who is a self-proclaimed neat freak? Well, I have a few suggestions for you. Hey, it takes one, to know one, right?
Reusable Labels – You can never have too many labels. I love these reusable labels. You can easily rename the label without having to create a new one, and they are removable and reusable. These also make great stocking stuffers!
Clear Storage Bins – Colored storage bins are oh-so festive. Hey, it's fun to coordinate with the holidays and get them in your favorite colors! But unfortunately, with colored storage bins you can't see what's inside. That's why I always opt for clear storage bins. You can see how much room you have, and can easily add more items.
Drawer Dividers – Every drawer needs a divider to ensure proper organization. Drawer dividers keep everything in place, and makes items much easier to find. Opt to use drawer dividers in junk drawers, or in deep kitchen drawers to organize objects like Tupperware or pots.
Car organizers – Is your car organized? The likely answer is no. A person's vehicle tends to be the least organized part of their lives. The one way to keep those cars and trunks organized is to get a car organizer. I use collapsible storage bins to hold essentials like windshield wiper fluid, a flashlight and other emergency preparedness items. I also keep one in my car to prevent grocers from sliding around! You can also use car organizers to store kids' toys, blankets and sporting essentials.
Battery organizer – Need I say more? It's wonderful to be able to look in a drawer and find the size battery and quantity you need. This battery organizer by Range Kleen is a good buy. Ah, heaven.
Photo: The Container Store