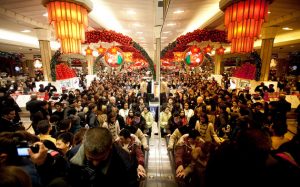 Christmas is 39 days away – yikes! It always surprises me how quickly fall turns into winter. All of a sudden, it's Thanksgiving and the hunt for holiday gifts is on. If you haven't started shopping for holiday gifts, you need to begin soon to prevent any last-minute-shopper stress! Here are some tips to help you stay organized while holiday shopping.
Make a master list – There are so many balls to juggle this time of year and you don't want to leave your many to-dos to memory. Make a master to-do list on an app like Evernote or simply write your lists down on paper or in your planner. Make a list for gifts to buy for friends & family, and also make lists for groceries you need to buy for entertaining events.
Schedule time to wrap gifts – Once you've purchased all of your gifts, wrap them ALL at once instead of one at a time. Just think about the time it takes to pull out the wrapping paper, tape and gifts tags. By wrapping your gifts in large batches, you'll save time and restore a bit of sanity.
Plan Ahead – Shopping is exhausting. To circumvent even more exhaustion, plan your meals and make large quantities of food when possible. When you are making a casserole, why not double the recipe and put the second batch in the freezer? Now, on the days when you know you will be exhausted from shopping, just pull the frozen casserole out and viola, dinner! By doing this, you don't have to rely on take out and you will also save money.
Online Shopping – Driving around to physical store locations during the holiday season is time-consuming and tiring. Looking for a parking spot, standing in long lines, or realizing the item you drove all the way to get is now out of stock. These are all great reasons to stay at home and let your fingers do the shopping.
Look for a bargain – Subscribe to your favorite retailers' newsletters or social media channels. The stores will offer advance notices and deals to their subscribers. You can also download savings apps like RetailMeNot to save digitally in your favorite stores.
Staying organized and planning ahead can free up more time for you to actually get into the holiday spirit. Enjoy these moments with your family and friends – be present, be joyful!
Photo source: Huffington Post