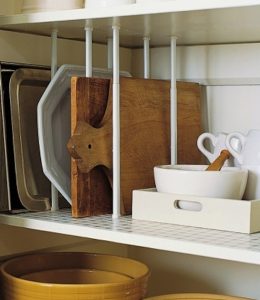 We're halfway through September, and that means we're nearing the primetime for cooking and entertaining. I absolutely love cooking and spending time with guests over the holidays…but if my kitchen is in disarray, it is less enjoyable. Quite frankly, I get grouchy. Get ahead of the holiday chaos and get your kitchen organized. There are five kitchen essentials I think every home should have.
Magnetic Knife Holder – Now, I know every knife set comes with a knife block, but sometimes these blocks are too clunky and take up way too much counter space. Hang a magnetic knife strip on the wall above your counter, and make more room for cooking preparation! With a magnetic strip mounted on your wall, your kitchen knives will always be accessible when you need them.
Tension Rods for Platter & Cutting Boards – Are you tired of having to lift out trays and cutting boards to get to the one you want? By installing small tension rods vertically in a deep drawer or cabinet, or on shelves, you can store your platters and cutting boards in between the tension rods. With this little DIY kitchen hack, you can easily see all of your available kitchen platters and cutting boards, and easily choose the one you want.
Wire Magazine Holder for Plastic Wrap, Tin Foil, and Wax Paper – Install a wire magazine holder to the inside of one your cabinets. This will create a vertical storage space to easily store those long, rectangular boxes, and free up precious drawer space.
Tension Rods for Cleaning Supplies – Cleaning supplies are great! Yes, keep on cleaning up your kitchen space regularly. But sometimes all of those bottles can create clutter under the sink or on the counter top. Hang a tension rod under your sink to hold your entire spray bottle cleaning supplies. It will be easier to see the labels on the bottles, and you'll be able to free up valuable kitchen storage space.
Lazy Susan – One Lazy Susan is good. Multiple Lazy Susans are even better! Use a large one in a bottom cabinet to store pastas, cereals and more. Use a smaller one in a refrigerator to easily store condiments and see what you have with a quick spin. And of course, use one to store your spices.
I hope these kitchen organizing tips are helpful! Next week is our monthly "Purge!" post focused on what you must get rid of before fall rolls around. Stay tuned!
Image: bobvila.com