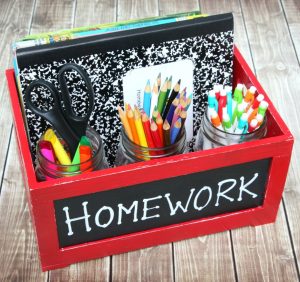 When school is back in session, the kids take over. Notebooks are on the kitchen counter. Pencils are found in between couch cushions. There are school supplies in every nook and cranny of the home. To minimize unnecessary clutter and avoid misplacing these supplies, create a homework caddy. This should be the hub for all homework supplies. By creating a homework caddy, your kids can do homework anywhere, and even work next to mom or dad while he or she is in the kitchen preparing dinner.
The homework caddy can be easily made, and the best part is you can do it on a budget. First, purchase a caddy, small bucket, or basket. Then, think of the supplies that your children need. Here is a starter list:
Lined Paper
Scissors
Index Cards
Markers
Crayons
Pencils
Pens
Colored Pencils
Highlighters
Stapler
Erasers
Glue
Protractor Kit
Pencil Sharpener
Tape
Graph Paper
White Out
Calculator
Put everything in an organized fashion on this caddy, and even create a checklist of supplies you have in the caddy. By consolidating your homework supplies to this mobile caddy, you can minimize unnecessary pickup around the house, and easily put homework supplies out of sight. What are some other school supplies that your children need? Share your ideas with us.
Photo: Happy Go Lucky Blog