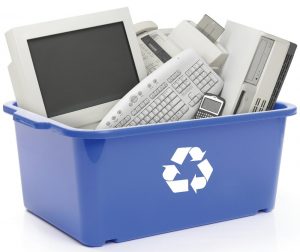 Walk into any New England basement, and you'll likely see an old super-sized television sitting collecting dust. As a society, whenever we upgrade our television or other large electronics, we have a hard time letting go of these older, outdated electronics, and we typically migrate them to another part of the house "just in case" we need it again. Here's the thing: you won't need them again. Trust me. What will instead happen is you'll walk into your basement 10 years later and realize you have to somehow get that large eyesore out of sight. Instead of waiting years to discard these items, get rid of them as soon as you upgrade your electronics.
Depending on the town you live in, it can be somewhat of a challenge to recycle large electronics, but there are several other solutions. One of my favorite places to recycle electronics is Best Buy. Check out their website to determine what you are able to recycle at the store and if there are size restrictions. If you are buying a new large flat screen television, ask the store if they recycle your old one. The store may charge a fee for something of that size, but it is definitely worth it in my opinion – out of sight out of mind, right?
Additionally, if your electronics are still functioning, keep in mind that there are several non-profit groups that would love your donation! For example, Big Brother Big Sister is one organization that picks up large electronic devices.
The other thing you can do is call your town's Department of Public Works. Sometimes towns have a designated day or time of year when they collect large electronics. My town charges for a yearly dump pass, and then depending on what I am trying to recycle, there is an additional fee. I have also seen ads notifying the public of a town-wide electronics recycling day. With Earth Day in a few weeks, now is a great time to investigate.
Photo: The Green Guide