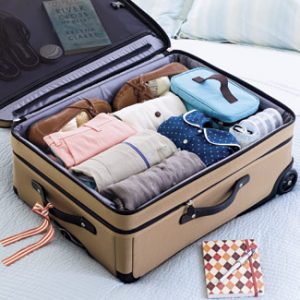 Over the river and through the woods to grandmother's house we go… These holiday lyrics are true for many Americans looking to spend time with their family and friends in faraway lands. According to the US Department of Transportation, during the Thanksgiving travel period, the number of long-distance trips increases by 54 percent, and during the Christmas/New Year's Holiday period the number rises by 23 percent, compared to the average number for the remainder of the year.
As you start planning your trips to see loved ones, make the packing process easier and more efficient with this step-by-step guide to packing (believe me, you'll thank me later!).
Step 1: Make a list, check it twice – No, I'm not talking about a gift list, I'm talking about a packing list! Nothing is worse than landing at your destination and realizing you have forgotten some important items like medication. As a professional organizer in the Boston area, I have clients who have created multiple packing lists for different types of travel. A client of mine has a list for business trips, one for cruises and tropical destinations & a list for family travel. These lists are stored on her computer so she can easily update.
Step 2: It's about that bag – Finding the right suitcase is essential, and it's important to find a bag that doesn't put a lot of strain on the body. It's also important to have the right size for all different types of travel. This guide is super helpful when thinking about what size to purchase. When it comes to material, I always suggest choosing a soft case made with quality, durable material so that it's easier to put in the overhead compartments. The hard cases are best for larger checked bags. And lastly, pick a bright, bold color! That way it's easily identifiable and you're not walking away with someone else's suitcase!
Step 3: Roll your clothes – This helps eliminate wrinkles and you can save space! You can put the rolled items in the bottom of your suitcase to make the most of the uneven bottom.
Step 4: Stuff your shoes with smaller soft items – I put my shoes in a plastic bag and then stuff the shoes with my socks. It helps the shoes keep their shape and it's a great use of dead space.
Step 5: Pack your jewelry with care – Invest in a travel-sized jewelry bag that can hold your earrings, bracelets, rings, and necklaces and can either be rolled or folded. With contained jewelry, you'll have fewer risks of snagging clothes. You can also use a straw to help keep your thin chains from getting tangled with one another.
Step 6: Label the outside – and the inside! – of your suitcase – We all know that we should label the outside of our bag, so make sure that information is updated each time you depart for a new adventure. But additionally, you should ensure you have a label INSIDE of your bag in case the outside tag falls off.
Photo: Traveler's Joy