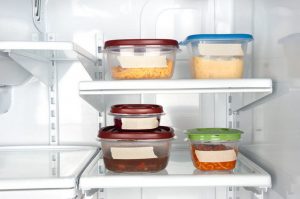 This Saturday is "Clean Out Your Refrigerator Day". Yes, there is a specific day devoted to rallying Americans to reach into the scary depths of their refrigerators and clear out what is old, crusty and otherwise no good.
This day comes at the perfect time as Americans are prepping for one of the biggest feasts of the year – Thanksgiving. And with any large holiday feast, there are LEFTOVERS.
Now is the time to really look at your fridge and take the time to go through and pull out expired condiments and any old science projects lurking in the back corner. It's also a good time to give it a good scrub-a-dub. By following a few simple tips below, your fridge will be cleared out, clean and ready for those tasty Thanksgiving treats.
Take everything out – This might seem over the top, but until you go through the practice of removing EVERY item, you won't really know everything that's hiding out in your fridge. It's amazing what can hide behind a jar of pickles!
Purge unused jars and condiments – I've said this before with clothing, and the same goes for food you don't use. Discard opened jars of things that you know you just aren't going to use, or don't foresee using in the future.
Clean the fridge – Wash down and disinfect the inside walls of the refrigerator, the bins, the shelves, and every other cranny. Inevitably, your holiday house guests will be in and out of your fridge, so keep it clean to avoid that "oh no, the fridge is a mess" moment.
Wipe down everything going back in the fridge – Every condiment, container and beverage that goes back in the fridge should be disinfected and wiped down. That way you can rest assured your clean, germ-free shelves aren't immediately being compromised.
Allocate a shelf for "leftovers" – Whether it's for Thanksgiving or weekly meals, I find that it's best to leave one shelf for leftovers only. Use masking tape to label each container with contents and a date. I even go as far as to put an expiration date based on guidelines from health professionals.
If you decide you don't want to keep all of the leftovers on Thanksgiving Day, set up a "to go" station so guests can take the leftovers they'd like home. Hey, it will save you room in the refrigerator – and calories!
Photo: Penn Live