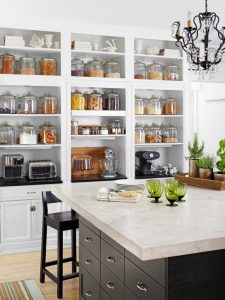 I first touched on kitchen organization when I wrote about how to plan and organize for a move. But now we're going to dive deeper and walk through a few of my favorite kitchen uncluttering tips. Let's face it, it's easy for the kitchen to take on clutter. It's a commonly used space, and if you've designed the kitchen right, it brings people together! This is wonderful, but then all of a sudden there's homework cluttering the countertops, cooking books sprawled out…things get messy! The good news is there are some quick tricks to deploy that will help you feel more organized in the kitchen.
Divide your kitchen into activity zones. Think through where you'll do your baking, and where you'll spend most of your time prepping for dinners. Then organize around those spaces. For example, in your baking area, put your primary baking tools, ingredients, etc. in the cabinet above or the drawers below. Also, if there is a kitchen island where you spend a lot of time working on homework, designate that as a "homework area" and put a basket underneath the island specifically for homework supplies (pencils, calculators, etc.) that way that "clutter" has a home.
Acknowledge your frequently-used items – If you always use your blender for smoothies, it makes sense to keep it out for easy access. For those items you infrequently use like serving platters and roasting pans, put them in the cabinets above the refrigerator or other spaces that are more difficult to access. If you're tight on kitchen space, you can even place in the basement or garage.
Purchase the right organizing contraptions and shelving – It's amazing how much these organizational components can make you feel less cluttered! First of all, lazy susans are truly a gift from the organization gods. Keep your spices on one in your cabinets so you can easily access without digging to the very back and destroying everything in your path. Lazy susans are also key for those corner lower cabinets that are filled with your dry ingredients. With one spin of the lazy susan, you can snag what you need. Additionally, use flatware organizers for storing utensils, as well as long, skinny tools. Lastly, to maximize space in your refrigerator, purchase low wire shelving so you can divide a once larger space in two, and store food above and below that wire rack.
Purge the pantry! – And of course, organize it, too. This is one of the spots that often need the most work. Before you get started organizing it, you need to take EVERYTHING out of the pantry, and throw away old food, items you haven't touched in a while, etc. Then once you've removed everything, plot out your plan of attack. You should designate a section for baking supplies, snacks, paper goods, canned food, etc. Place items like paper goods that you don't use every day up at the top where it's a bit more difficult to access. Once you've designated a section, purchase bins, containers or jars to accommodate these items, and label, label, label! For example, you can fill a crate with baking supplies, and label the outside so it's easy to identify these materials when needed. You can also purchase large jars to store flour, pastas, etc. so that you can rid yourself of bags and boxes that can often leave a mess.
Don't neglect the space under the kitchen sink – This area can often get messy and become a black hole of cleaning supplies. To minimize the clutter, consider using tension rods to hang bottles of cleaner and small bins to store sponges and cleaning gloves. Another tip that I love is putting the roll of trash bags on a paper towel dispenser so you can rid yourself of those boxes and access trash bags easily.
I hope these kitchen organization tips can help you in your pursuit for a cleaner, more organized kitchen. Be sure to check back for more kitchen organization tips in the future!
Photo: Cute and Company