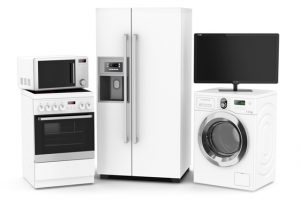 While I'm sure that the first thought on your minds in the age of COVID-19 is not making big ticket purchases, the economy is bound to get better, and life will go on. You may, indeed, be thinking of such because of spending so much more time at home, so …. consider the following in between Zoom classes and Skype meetings and what not. To assist you, here are ways to help you decide how to buy big ticket items.
Features – List which features you would like to have in your replacement or new item. Do you need a dishwasher that can sterilize baby bottles? Do you need a dryer that can make your husband's shirts look like they've been ironed? First identify what you need from the item you are purchasing. 
Longevity – Decide how long you want the product to last. If you are shopping for a couch and regularly update your living room décor every five years, you don't need a couch that will last more than that. If you are shopping for a washer/dryer and are planning to move into a condo or to downsize in a couple of years, you don't need to buy something with a 10-year warranty. If, however, it's a hot water heater you are after, you may want to buy one with a long warranty as that will be a good selling point if you do decide to list your home.
Wear and Tear – Figure out how much wear and tear the product is going to take. For instance, if you are shopping for a vacuum, are you sewing a lot and need a vacuum that will be able to suck up threads that get caught on the roller on a regular basis, or do you have pets that shed a great deal? Knowing the way you will use a product will help you narrow down the selection. 
Budget – Decide how much you want to spend or are able to spend. Do a google search on what you are shopping for, including all of the features you want it to have, and how long you expect it to last. The results will tell you the highest, lowest, and median price for that item. Now it will be easier to choose.
Research reviews – Visit the websites of reliable local retailers such as Best Buy or Home Depot. Specifically, search for products with 4 stars or more. Then also be sure to read the negative (2 stars or fewer) reviews. Look to see what problems are repeatedly mentioned.
Warranty – Read carefully to determine what, if any, warranty comes with the product. This will also give you an indication of the product's life and the manufacturer's confidence in it. 
Purchase – Now that you have done your research and know what you want to buy, purchase it. 
Making sure you are purchasing the most appropriate big ticket item for your particular needs may necessitate a bit of your time, but in the long run, you will be satisfied that you obtained the product that fits your individual requirements and budget.
Photo: Adobe Stock Photo