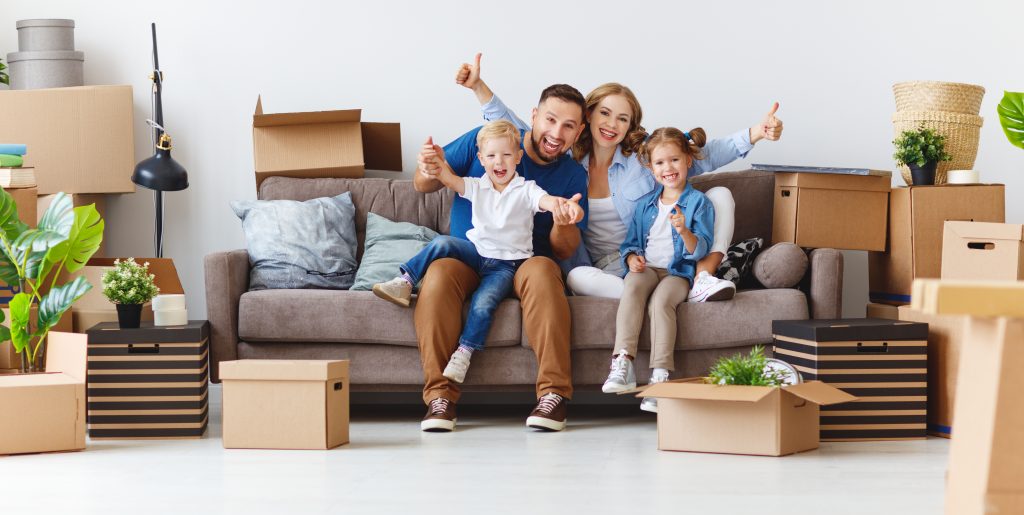 Many families move during the summer, so they don't have to pull kids out of school mid-school year. However, moving with a family is far more than just packing boxes and renting a U-Haul or hiring a mover. Here's how to organize a seamless move to a new home when you have children. 
Start the Countdown – Once you know you are moving, tell your children as soon as possible. It is a lot to process and they need to go through all their feelings. Kids who are moving are worried about making new friends and losing old ones. Telling your children when you are moving may be too abstract for them. Encourage them to create a countdown calendar and have them cross off each day so they have a visual that will help them see when you are moving.
Visit Your New Home – If at all possible, take kids to visit your new home. Take a walk around your new neighborhood to be and check out their new school. It will help them see where they will play, eat, sleep, and live. If you aren't able to go into your new home, see if you can have a video or photos to share with your children. Zillow is great for this purpose. Very often homes on Zillow have interior photos as well as exterior ones. You can also take pictures during your home inspection.
Contact Your New – and Old – Schools – If you will be moving out of your school district, request a copy of your child's academic records. Tell the school district that you will be moving and ask if you need to sign any release paperwork for them to transfer any additional records to the new school. Contact the new school district and ask what paperwork they will need to enroll your child. Don't wait until school is about to begin to contact the new school. Make sure you have easy access to copies of their birth certificates, report cards, immunization records and any other paperwork that will be required. Call the school to see if you can take a tour of the school with your children so they are somewhat familiar with how the school is laid out.
Have Kids "Design" Their New Room – You will want to get your children excited about the move and one way to do this is to have them involved in planning their new bedroom. If you are going to paint their room, ask them what color they would like for their walls. Are there any important action figures or sports idols that they would like to have a poster or two of to hang on their wall? What about furniture? Is it time to upgrade their bed or dressers? Or maybe just changing their comforter and adding some pillows or other decorations will get them super charged for their new space.
Share a Story – When there is a big change about to occur, reading a book about it may ease any fears. They can read about how the characters in the book handle the move and ask you questions. Look for books about the new area if you are moving to a new state or country. What are some fun things to do in that area? Plan to do some of those activities when you arrive. Amazon offers several great kid's books on moving.
Share the Packing – Before you start packing, take photos of your existing home. This will allow your children to look back on their bedroom and home and remember it when they are feeling sad. Depending on the age of your child, you may want to have them help you. It's a great life lesson on how to pack and get organized for a move. You may ask them to make the labels for the boxes, so they are feeling a part of the team. Or have them draw on the boxes.
Unpack the Kids First – The first rooms that you need to unpack are your children's. You will want them to sleep in their own bed and wake up with their clothes unpacked and familiar items around them in their rooms if at all possible. If it isn't possible that first move in day, by all means, make it a priority to do the very next day. They need to feel settled.
Moving is stressful no matter what age you are, but it can be especially stressful for kids. Making new friends and getting to know a new school and a new neighborhood are tough for young children and teens. By planning ahead and involving your children, regardless of age, in the moving process, you can make them feel more comfortable, and possibly even excited, about this change.
Photo licensed from Adobe Stock