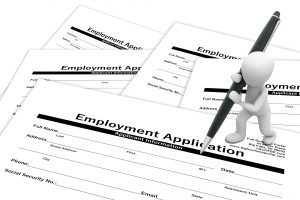 Job searching has changed dramatically in the last five years. You used to be able to email your resume with a cover letter, and, if you were in a creative field, directly to a hiring manager or Human Resources. You could even upload your cover letter and resume into Monster or CareerBuilder and they would send it to an employer for you. How do you apply for a new job?
Today it is not so easy. Most employers pre-screen applicants via online job applications that require you to fill out your qualifications before submitting your cover letter and resume. These applications, and the resumes, are parsed, or electronically searched, for specific keywords and phrases before they even hit human eyes.  Here's what you need to know, and what you need to have in front of you, before you click that "apply" button on Indeed.
Hunt and Gather It – Before you even log onto SimplyHired, gather your resume, contact information for references, college transcripts, the names and addresses of every school you have attended, including high school and put it in one place. Having all this information in front of you will make it easier to quickly customize your cover letter and resume and fill in those online applications.
Google It – Google a description of the job you are applying for and peruse both job postings, sample resumes, and the qualifications of other professionals in that field. Make a list of the skills, qualifications, certifications, and experience that come up repeatedly amongst all three.
Optimize It – Now that you know what employers in your field want, SEO, or Search Engine Optimize, your resume so that those skills are mentioned repeatedly in different ways on your resumes. If a specific skill or certification is mentioned by name, you want to state its name and say your exposure to it. The more keywords in your resume, the better the chance it will make it to the next level. Check out this example on LiveCareer for an example of how to accomplish this.
Detail It – Your resume should include a list of technical skills, i.e.: Microsoft Word, Adobe, etc. It should also demonstrate that you have used them in your job experience detail. Be sure each job description on your resume does this. For example, instead of saying "Developed press releases" when a job calls for MS Word, say, "Used Microsoft Word to develop press releases." These days employers know better than to pull in a candidate who doesn't show the use of a particular skill they're looking for. Naming that skill is not enough.
Cover It – There is some argument that cover letters are going the way of the dodo. I say they are still important. A cover letter can explain why you're living in one state and applying for a job in another, or a gap in your resume. Most companies will also call for a cover letter as part of the online job application process. If not, a cover letter can easily be added to your resume and the two documents can be combined into a single Adobe PDF. Make sure your cover letter is Search Engine Optimized, and that everything you have on your resume matches your cover letter.
Customize It – Since you are already taking the time to fill out a job application, take an extra few minutes and fine tune your resume before you upload it. Make sure the resume states how you have done whatever the company's job description states as the required skills and experience.
Create a Plain Text Version – Odds are, your resume or cover letter will be parsed by the online system and formatted into plain or real text format. This can be awkward if your resume has customized formatting. Create a plain text version of your resume with linear formatting. This will ensure your resume is clear and easy to understand when it finally hits human eyes.
Applying for a new job is not a fun task but by having yourself as organized as you can be will make this experience a more pleasurable task.
Photo: Gerd Altmann