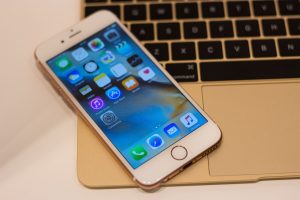 We love our cell phones and tablets. But when was the last time you looked at all the apps you have accumulated? Some people can scroll screen by screen searching for the app they want and it's hard to find among all the useless apps they have on their devices. How to better organize your cellphone?
Delete –Just like we need to clean out our refrigerator or closets, we need to declutter our cellphones. Ask yourself which apps you use the most in your day to day life. Not sure which apps you use vs. those you don't? Check your phone's battery and data usage in "Settings". The apps that draw the least power or use the last amount of data are the ones you don't need. Delete anything with a low data usage in particular.
Folders –For some apps it may make sense to create folders on your screen to help manage those apps that you use but not frequently. I have a folder on my iPhone for all the airlines. I don't use them often but when traveling, I like knowing I have the app on my phone for each airline I will be using. Google 'how to create folders' for your model of phone.
Organize –Put the apps that you use most frequently on the first screen, so you don't have to scroll through the screens to find the ones you want. On an iPhone, when you add an app, it goes to the last page or first open slot. You can move the apps around to suit your needs.
Home Screen –If you have an iPhone you can store 4 of your most used apps in the dock. No matter what screen you are looking at, the 4 apps on the bottom always are visible. I keep my phone, email, safari, and calendar in my dock as they are the ones I use the most. Customize based on your preference.
Storage –Use the cloud for storage and back up. This will help save memory on your phone. Photos, music, and video take up a lot of room on your phone. Putting them in the cloud saves space and memory. Depending on how much you need to backup and store, most cloud services are free. If they do charge, it is not that much per month. Well worth it in case your phone dies or is lost.
Streaming– Using a streaming service such as Spotify or Pandora allows you to listen to any music but not have to store the music on your phone. They all offer a free version so decide how much you will use the service and if you want to be ad free by paying a monthly fee. If you use these services, decide if you will use data for them, or just run them over Wi-Fi when it is available and update your phone's settings accordingly.
Backup!– I mentioned backing up your phone in the storage section, but it needs to be repeated. I have worked with a lot of clients who never backed up their phone or thought they were only to find themselves without precious photos, text messages, videos, etc. BACKUP your phone on a regular basis. It is worth the extra money!
Photo: Pixabay  Approved for Reuse