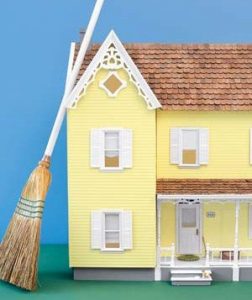 Let's talk about cleaning. Few people love to clean (unless you're one of those people who find it therapeutic!). And the last thing you want to schedule time for is CLEANING. Scheduling social activities is fun. Scheduling time to clean…not so fun! But in my opinion, it has to be done.
Who remembers their grandmother's cleaning schedule? My grandmother used to clean various parts of her house on specific days of the week. My own mother picks one day a week to do all her laundry. On that day of the week, she changes her sheets and towels as well.
In theory, it is helpful to have a cleaning schedule. Whether it's scheduling a day for different rooms, or doing it all at once.
If you can determine what areas of your house need a weekly cleaning – the bathroom and kitchen, for example – then the next step is to pick a day of the week that you know you can commit to cleaning that room or rooms. The other cleaning tasks would need to be put in your schedule for either a weekly or bi-weekly task.
For some busy people, doing the entire cleaning from top to bottom or from right to left is much easier to tackle. Personally, it's more effective for me to clean the entire house at once. The one exception is with laundry. This is a task that I maintain throughout the week.
The bottom line is that you have to form a cleaning schedule that works for you and your home! What works best for you?
Photo: Real Simple