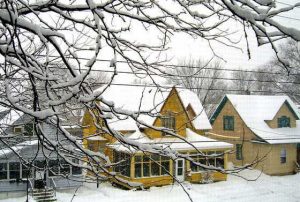 This time of year is bittersweet. The warm weather is gone. The barbecues have come to an end. Your garden is slowly dwindling away. The good news is this time of year is festive, and oh-so fun!
With November a few short days away, I am hoping you have started to look at your home and determine what needs to be done to get your house ready for winter. There are a number of tasks that need to be completed to make sure the seasonal preparation has begun.
Here are some tasks to consider to prep your home for winter:
Outdoor patio furniture – If you have space in a shed, garage or basement, move your furniture out of the elements. This will preserve your furniture for the upcoming season. If you don't have storage space, invest in covers to protect them during the harsh winter months.
Gutters – Have you made an appointment with someone to come clean out your gutters before the snow falls? Having clear gutters will help eliminate ice dams from forming.
Garage – If you have a garage, take advantage of it as a shelter from the snowstorms! The question is, in its current state, can your car fit in your garage? Take the time now to get it organized so you can save yourself from having to scrape off your car. If you are struggling to fit your car into your garage, think about the vertical space around your garage. Research garage shelving systems, and get items off the garage floor!
Lighting – Now is the time to make sure your outside lights are in good working order before it is freezing outside and you aren't able to get your lights in working order. The days are shorter, and outdoor lighting is crucial during these upcoming winter months.
It's best if these tasks are done in the next few weeks, before Thanksgiving hits and life gets a bit too crazy.
What other outdoor prep do you typically take on before the winter months?
Photo: Bob Vila