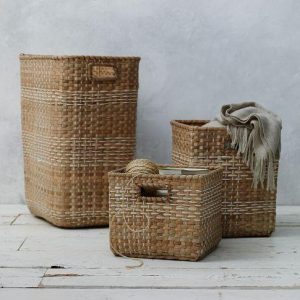 When I think of fall and winter, I think of cozying up the home. I think of the L.L. Bean catalogs featuring slippers, blankets and flannel EVERYTHING. It's a warm feeling, and a feeling unlike any other. As we start to pull out our favorite fall items, a big question comes to mind – where do you store everything? The answer is simple – a basket.
There are many wire, wooden and wicker baskets that can beautifully store these items. Baskets come in all shapes and sizes. Some have handles, which can be helpful if you need to move the items from one place to another. Some have lids if you need to protect your gloves from your dog that just loves to play – and chew – them up.
Below are three ways to use these baskets:
Winter gloves, hats, and scarves – In New England, these items are a necessity, but they can easily cause clutter, or get lost. (Everyone has fallen victim to losing one glove, and that is just no fun!) Snag a small basket for each member of the family, or create separate baskets to hold each similar items.
Pet Items – Your pet has his or her own wardrobe and accessories, and baskets are a great way to organize these items. Corral their leashes, poop bags, toys and treats in a basket, and opt for one with a lid if your pup will get into trouble.
Healthy Snacks – The cooler months mean more warm, cozy food. Who doesn't love pumpkin muffins, hearty stews and pies? Help yourself and your family eat healthier by putting a basket on the counter of healthy snacks. By keeping these snacks out in the open, it encourages family to grab for healthier snacks like nuts, granola bars, fruit, or other items that encourage less sugar and salt.
What are other items you and your family store in baskets?
Photo: Decor Pad