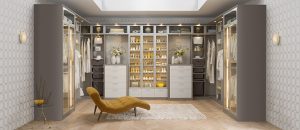 We've all seen those beautiful California Closet commercials, glamorizing closet organization systems. The closets are spacious (so spacious!) and appear clean and clutter free. So dreamy, right? Well, I have been asked by clients which is better: purchasing a large-scale organizing system from places like California Closets or The Container Store, or, it is better to use a DIY approach. The answer is: it depends.
First, ask yourself these two questions:
Do you own your own home? If you do not own your home, investing in a closet system can be pricey. Why invest in something you can't take with you when you leave?
Do you wear the items in your closet? I always have my clients evaluate their clothes to make sure what they have in their closets are the items they love and that they will wear. It doesn't make any sense to invest in any closet system if you are only going to wear ½ of what is in the closet.
If you answered 'yes' to the questions above, take the next step and think about what your goal is for purchasing a closet organization system. Do you want to create more space? Do you want to create a functional shared closet space with your significant other? Once you know your goal, you'll be able to better evaluate how much hanging versus shelf space is required.
Next, think about how you will go about getting these installed. How handy are you? For me, I don't like doing handyman type tasks so I think it is better for me to hire someone to do this type of work. It will be cheaper in the long run as it will be completed in a time efficient manner. It is also best to bring in a professional organizer to help guide the process and set you up for success.
If you are handy, go for it! Using the Elfa system from The Container Store is customizable and supposed to be easy to install. You could also go the route of going to Lowe's or The Home Depot and purchase their DIY closet system. If you have a large closet space that needs a lot of work, then perhaps a California Closet organization system is right for you.
The answer to this question depends on the person. The best advice I can provide is to know your goal and budget. By doing this, you'll ultimately create a closet space that will make you smile!
Photo: California Closets