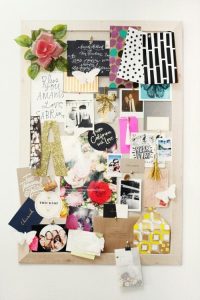 I hope everyone had a wonderful holiday, and was able to soak in every last moment of the season. Now that the glitter from the holiday gifts has settled, it's time to start thinking about your 2016 goals. Last year, I shared some "dos" and "don'ts" for creating your annual goals. Be sure to re-read this blog post before diving into this year's tips!
It can be challenging to think through realistic goals for your life. It requires time, and introspection. Don't create your goals without giving them proper thought! As you're starting to brainstorm, here are some goal setting tips to get you started.
Create a vision board. To get to the heart of a goal, start out by creating a vision board that represents what you want to achieve now and in the future. Once you see that greater vision, plan how to achieve that vision on a daily, monthly or yearly basis. This is where your smaller, annual goals come to life! Throughout the year, as you go about your goals, be sure to go back to your vision board to ensure your actions are aligning with your greater goals.
Write down your goals. I've said this time and time again, put your goals on paper! Studies have shown that people who write down their goals, and review them frequently, are more successful in achieving their goals. After you write down your goals, be sure to schedule quarterly goal check-ins.
Commit to 30 days. Start small, and work your way up! Break down your goal into manageable parts, and schedule the time to work on them in your calendar. Sometimes it can be easy to hit "delete" to that standing appointment, but this will only set you off track. The more consistent you are in the beginning of starting something new, the more likely you are to continue. By committing to the time you have put in your calendar, this action will slowly become a habit.
I wish you the best of luck in creating your annuals goals. As a Boston professional organizer, I'm here throughout the year if you need any advice. Happy (almost) 2016!
Photo: Serendipite Designs