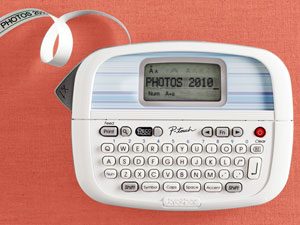 If you can believe it, we are 10 days into March. I know, I know. It doesn't feel like March because of the mounds of snow that have refused to melt. But folks, trust me, spring is around the corner, which means my favorite cleaning season is here! It's time to think about spring cleaning your home. After this rather rough winter, all New Englanders can stand to reenergize and organize their homes. It will feel so good. I've shared several cleaning and organizing tips in the past, and today I'm going to focus on what you need to get started on cleaning and organizing your home. Below are eight must-have professional organizing products, selected by yours truly.
Label maker – This handy tool is not only great for folders and hanging files, but you can use the label maker for so much more! One great use for a label maker is for the chargers of those new electronic devices. By labeling the charger with what device it should be paired with, you'll never have to waste your time plugging in and figuring it out. The label will also help you easily determine when and if you are able to purge the item. Hey, we all upgrade our phones every couple of years, meaning those old chargers can be properly disposed.
Paper shredder – With identity theft on the rise, we all need to make sure we're protecting our identity and personal information. Every household and office needs a crosscut shredder with a removal bin. The removal bin makes it so much easier to empty without have to lift the heavy shredding mechanism. Another great tip is to keep a clear garbage bag in the bin so that clean up is a snap. What should you shred? Shred anything with account numbers or other private, personal information. I take it one step further and shred anything with my address on it.
Calendar – Whether you choose an electronic or paper calendar, every household needs a calendar. If you need a few tips on selecting the right calendar, check out this blog post all about the different calendar systems available to you. I also wrote how to keep your family activity calendar organized. Calendars keep you sane and organized.
Storage bags – These are simple, yet effective organizing tools. Ziploc® makes my favorite storage bags. I can't tell you how excited I was when they came out with the snack size bag. These bags are so handy when you're looking to corral and organize drawers, cabinets and other small spaces.
Over-the-door shoe organizer – You can use this home organizing accessory for more than shoes! You can use them in your entry hall closet to keep seasonal items in easy-to-see and easy-to-access pouches. In the winter, you can use the shoe organizer to store your gloves, scarves and mittens. In the summer, you can store sunscreen, sunglasses, bug spray and other seasonal items. In a girl's playroom, the shoe organizer is a great spot to place Barbie® dolls and accessories separated so playtime is a cinch.
Clear bins– Clear bins are an essential part of organizing. You can see what's inside and how much remaining space you have for other items. You can also opt to use labeled baskets or opaque bins. You should still use your label maker to give each bin a label so you can identify what's inside at quick glance.
PaperKarma app – There's an app for reducing the amount of unwanted junk mail that seems to add clutter around the house. Download the app, and then use your smartphone to snap a photo of the company's address alongside your name and address. Submit the information and voila! Your information will be removed from future mailing lists. You'll also be helping the environment a bit.
Garbage bins – As a professional organizer in Boston, I've seen many rooms without garbage bins. A room without a trash big can lead to unwanted trash in a room. A decorative garbage bin can add to your decor and cut down on the clutter and trash. This will make cleaning so much easier.
Stay tuned for my next post where I challenge you to purge and organize during Clutter Awareness Week!
Photo: Good Housekeeping