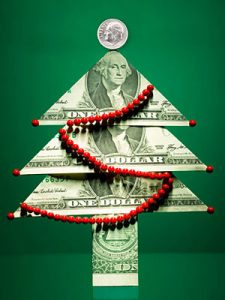 Happy December, everyone! We officially kicked off the countdown to Christmas, and are four days into the merriment of December. For many of us, here's the situation. You still have stacked containers (labeled properly, of course) of Thanksgiving leftovers in the refrigerator. You've started to skip to the beat of the holiday music broadcasting everywhere – dentist offices, restaurants, and every retail store in the country. And of course, you have a holiday gift list either partially started, or not started at all. Shopping for friends and family can be a lot of fun. I love the feeling of finding the perfect gift for a loved one and seeing their reaction as they open it. Before you start your holiday shopping, follow these simple holiday professional organizing tips to avoid these "naughty" mistakes.
Create a budget – If you don't put a budget together for your holiday spending, you are setting yourself up for financial disaster. Your budget should not only include budget allocation for gift giving, but also include family dinners, travel (airfare, rental cars, etc.) and shipping. This budget should also include a "holiday fun" line item so that you can have a bit of wiggle room to shop for yourself, buy delicious holiday coffee drinks or see holiday movies.
Make a list, check it twice – After you've assigned costs for holiday essentials like travel and meals, you can allocate the rest of your budget for gifts. Put together a list of people for whom to buy gifts or give tips. This includes the paperboy, hairdresser, school teachers, and other service professionals who you see throughout the year. This list should be in order of importance so you can prioritize funds.
Assign a dollar amount to each person – After you've put together your list, place a dollar figure next to each person based on your gift giving budget. If you find that you're going over budget, evaluate if there is an alternative to giving that person a gift. For example, can you give each teacher a card versus a gift? Would your family consider drawing names from a hat, versus having each person buying a gift for everyone else?
Stick to the list – This is perhaps the hardest thing to do during the holidays. DON'T STRAY FROM THE LIST. During the holidays we are surrounded by retail temptation. That's adorable! I need that! It's okay to indulge here and there, so long as it aligns with your "holiday fun" fund.
By creating a budget – and a detailed gift list – you can truly have a handle on how much money you need for the season, and avoid being in debt once the new year arrives.
Photo: Good Housekeeping